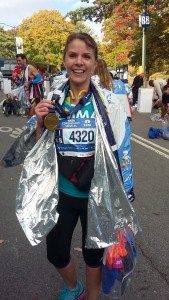 After months of training, I completed the New York marathon on 1st November 2015 in 4 hours 26 minutes – just a minute behind the actor Ethan Hawke!
New York is the world's biggest marathon and the atmosphere and support from the crowd the whole way was incredible!. Running over all the bridges was tough and the last few miles into Central Park seemed to go on forever, but I did it!
To date, my team have raised almost £10,000 for Cancer Focus NI and donations can still be made at www.virginmonegiving.com/nyc4cancerfocus. Thank you so much to all who have supported us along the way!