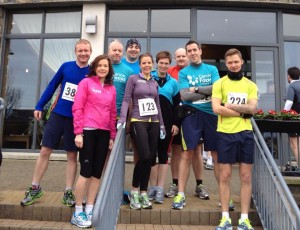 It is hard to believe there are less than 4 weeks to go until Belfast Marathon day! Into week 13 of my training plan and over 240 miles done already, plus endless planks and press-ups!
Having previously never run further than a half marathon (13.1 miles), in the past few weeks I have ticked off runs of 14 miles, 16 miles, 17 miles and 18 miles. One final long run of 20 miles to do this weekend and then we are into the taper period – giving our legs a chance to recover before the big day!
The Team Challenge 26.2 training group has been fantastic, helping each other deal with numerous injuries, blisters and the odd broken toe! We coax each other through the long runs at the weekend and the miles go in so much quicker with someone to chat to.
Having braved all that the Northern Ireland weather can throw at us over the past few weeks, one of our main concerns is that May Day will be too hot and sunny as we are so used to training in the cold (and the snow!).
We have raised over £1000 so far for Cancer Focus Northern Ireland but we would love to reach our target of £2620 (£100 for every mile) so please consider a donation – www.justgiving.com/TeamChallenge26-2.
Cancer Focus Northern Ireland (formerly the Ulster Cancer Foundation) is a fantastic local charity providing support to families dealing with cancer, as well as funding for research and prevention of this dreadful illness. We are proud to support such a great cause!