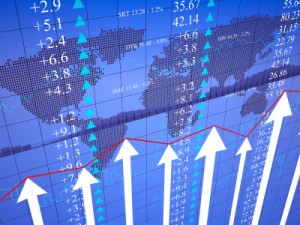 The UK economy emerged from recession in the three months from July to September, helped by the Olympic Games. The economy grew by 1.0%, according to official gross domestic product figures (GDP). The positive news on UK GDP growth coincided with other encouraging data on employment and borrowing, although inflation increased to 2.7% in October.
The latest Ernst & Young Item Club report has forecast UK economic growth of 1.2% next year and 2.4% in 2014, fuelled by higher consumer spending as a result of falling inflation and a better jobs market. It also says these improvements will be boosted by a recovery in the mortgage and housing markets next spring.
Meanwhile the eurozone is back in its second recession since 2009, the economy shrinking by 0.1% in the third quarter and by 0.2% in the previous quarter. Germany and France, the eurozone's biggest economies, each managed modest growth of 0.2%. The better news is that while the European Commission predicts a 0.4 per cent contraction for the eurozone in the whole of 2012, it believes it will grow 0.1 per cent in 2013.
Against a backdrop of protests, the Greek Parliament narrowly approved the country's 13.5 billion euro austerity package, although they still have to wait for official approval of the next 31.5 billion euro tranche of bailout funds. Eurozone ministers have also agreed to give Greece an additional two years to meet its deficit-reduction targets.
The positive start to negotiations between President Obama and the Congress over the looming 'fiscal cliff' facing the US economy has soothed investors' nerves after last week's market falls.
Leaders of the US Senate and House have said they would be 'flexible' in addressing their political differences to avoid a simultaneous hike in taxes and cuts to spending that would suck $600 billion (£377 billion) from the US economy next year and push it back into recession.
China has reported encouraging economic data, indicating that growth in the world's second-largest economy may be rebounding. Industrial production, retail sales and fixed-asset investment all rose more than expected in October. Meanwhile, the inflation rate fell, giving room to policymakers to employ stimulus measures to support growth. Chinese exports also picked up sharply in October, lending weight to the argument that economic momentum may be picking up again, just as new leader Xi Jinping takes over.
One major concern amongst investors is the continuing unrest in the Middle East, as the recent violence between Israel and Gaza threatens an already unstable region.
The combined uncertainty of the eurozone, US "fiscal cliff" and the Middle East crisis have lead to most multi-asset funds showing slight losses over the last month. However, the year to date figures are still showing healthy growth, with the Mixed Investment 20%-60% shares sector average growing by 6.0% and the Mixed Investment 40%-85% shares and Flexible Investment (60%-100% shares) sector averages both growing by 6.4%.
We are always available to discuss any queries or concerns, so just call or drop us an e-mail.