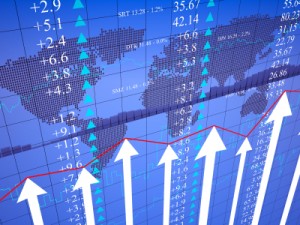 Stock markets appear to be steadying on optimistic economic data, after last month's falls due to the US Federal Reserve suggesting they may be ready to cut back on their programme of Quantitative Easing.
Ben Bernanke, chairman of the US Federal Reserve told a Congress briefing on 22nd May that the US central bank could begin to downsize its $85 billion per month bond-buying programme later this year, if the economy shows enough sustainable improvement. Bernanke also reiterated his previous promise not to raise interest rates until the unemployment rate fell to at least 6.5% – and the latest figure of 7.6% is some way off.
Prior to this announcement, the major stock market indices had been climbing to record highs, with the Dow Jones closing above 15,000 for the first time ever, the FTSE100 close to its all time peak of 6930 and the Nikkei reaching its highest closing level in over 5 years.
Investor uncertainty, following the announcement from Ben Bernanke, triggered a sell-off and a fall in share prices. Investor concern was heightened by a report from China, showing that manufacturing activity in the world's second largest economy had fallen for the first time in seven months. This strengthened fears that the recession in Europe was contributing to a slowdown in China, which would in turn affect the rest of the world.
Markets are still well up on this time last year, with the average fund in the moderate risk multi-asset sector (IMA Mixed Investment 40%-85% shares) up 16.6% in a year.
The UK economy avoided the dreaded 'triple dip recession' with growth of 0.3% in the first quarter of 2013. The ONS (Office for National Statistics) also revised its overall growth figure for 2012 up from 0% to 0.2%. The new Northern Ireland Composite Economic Index (NICEI) showed weak regional growth of 0.3% for 2012, with economic activity now back to 2004 levels.
Northern Ireland also received a positive boost with the G8 Conference being held at the Lough Erne Resort in Fermanagh. At the conference, G8 Leaders agreed new measures to clamp down on corporate tax avoidance by large companies making use of legal loopholes and tax havens. Formal negotiations to allow free trade between the US and EU were also announced, a measure which could add £100billion to the struggling EU economy.
The Bank of England has continued to hold the base interest rate at 0.5%, with no major changes expected before the new governor, Mark Carney, takes over in July. Recent surveys of the services, construction and manufacturing sectors in the UK suggest growth in all three areas, which has led some analysts to improve their economic forecasts for the year.
In the US, house prices in March were up 10.9% on the same month the previous year, the biggest rise in nearly 7 years. Sales of new homes in the US are also up, and consumer confidence is at its highest level in more than 5 years.
The World Bank has cut its growth forecast for China, the world's second-largest economy, amid warnings of slower but more stable global growth over the coming months. The bank now expects the Chinese economy to grow 7.7% in 2013, down from its earlier projection of 8.4%. It also cut its forecast for global economic growth to 2.2% from 2.4%. A slowdown in key markets such as the US and Europe has seen a decline in demand for Chinese exports, but this is being offset by a boost in domestic consumption. In population terms, China is as big as Europe and North America put together, and that population is young, growing quickly and increasingly wealthy.
Elsewhere, many of the world's fastest growing economies are now African, with countries such as Ghana, Ethiopia, Rwanda and Mozambique experiencing booms. The mobile phone, and the internet access that this can bring, has been highlighted as the single most transformative tool for development, with 70% of the population in Nigeria now mobile phone owners. However, poverty and corruption are still widespread, and a report released by the UN highlighted that tax avoidance and secret mining deals were depriving Africa of the benefits of its natural resources.
The value of your investment can go down as well as up and you may not get back as much as you originally invested.
We are always available to discuss any queries or concerns, so just call or drop us an e-mail.