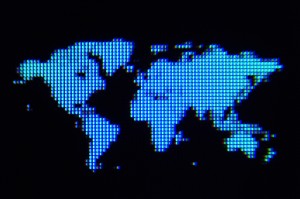 Geopolitical news dominated July and share prices around the world were adversely affected. Violence escalated between Gaza and Israel while the ongoing conflict in Ukraine was exacerbated by the Malaysian Airlines crash, which was followed by fresh sanctions against Russia from the US and the European Union. Investor sentiment received a further knock after it emerged Argentina had defaulted on its debt.
In the US, the Dow Jones Industrial Average index did breach 17,000 points for the first time, fuelled by upbeat investor sentiment and encouraging employment data. Nevertheless, the benchmark index fell 1.6% over July as a whole, undermined by wider geopolitical issues. More positively, the US economy rebounded during the second quarter, expanding at an annualised rate of 4%. July also saw the US Federal Reserve announce its programme of asset purchases is likely to finish in October, stoking speculation about the timing of an increase in interest rates.
According to the International Monetary Fund, economic growth in Europe is showing signs of recovery although financial markets might be "too upbeat". For its part, the European Central Bank expects interest rates in the eurozone to remain at 0.15% for "an extended period of time". The region's rate of inflation continues to languish and dropped from 0.5% in June to 0.4% over July. Share prices in Europe experienced relatively high levels of daily volatility during the month and, over July as a whole, Germany's Dax index fell 4.3% while the CAC 40 index in France fell 4%.
Closer to home, the UK economy grew at a quarterly rate of 0.8% over the second quarter (equating to an annualised rate of 3.1%) to surpass its pre-crisis peak of 2008. According to research undertaken by Ernst & Young, however, the first six months of 2014 saw profit warnings from UK businesses reach their highest level since 2011 – a result of competitive pressures and a strong pound. The FTSE 100 index fell 0.2% during July.
In Japan, meanwhile, the Nikkei 225 index rose 3% over the month, although share prices were dampened towards the end by some disappointing corporate earnings data. According to the Bank of Japan's quarterly 'Tankan' survey of business confidence, although sentiment among large manufacturers deteriorated during the three months to June, large companies intend to increase investment spending, indicating businesses are broadly sanguine about the economic outlook.
We are always available to discuss any queries or concerns, so just call or drop us an e-mail.
The value of your investment can go down as well as up and you may not get back as much as you originally invested.