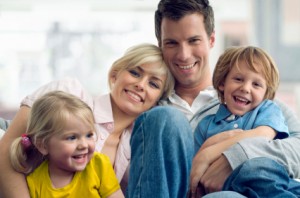 From Monday 7th January 2013 child benefit has been withdrawn from high-income households.
Will you be affected?
The changes only impact on families where one or both partners have an "adjusted net income" of more than £50,000 per year.
"Adjusted net income" includes all taxable net income; including bonuses, benefits in kind, rental income and investments, but is reduced by pension contributions.
If you are affected then you will need to register for self-assessment, as the child benefit needs to be declared on your tax return.
How much will you have to pay back?
For every £100 of income between £50,000 and £60,000, 1% of child benefit will be taken back via your tax return. For example, if your income is £55,000, 50% of your child benefit will be taken back.
Child benefit is currently paid at £20.30 per week for the first child and £13.40 per week for other children. This equates to £1,056 per year if you have one child, or £3,146 if you have four children.
As the change is being introduced partway through the current tax year, the charge this year will be one quarter of this amount, rising to the full amount from April 2013.
What are the options?
You can opt out of receiving child benefit in the first place, by filling in a form on the HMRC website. The form must be completed by the person who receives the child benefit.
Any other options?
Salary Sacrifice
If your employer runs a salary sacrifice scheme, you can use it to replace taxable earnings with non-taxable benefits, such as childcare vouchers.
Pension Contributions
If you earn £55,000 but make £5,000 of pension contributions, you will decrease your taxable income to £50,000. This means that you will still be eligible for the full child benefit and have money saved towards your retirement, as well as reducing your income tax bill.
(The value of your investment can go down as well as up and you may not get back as much as you originally invested.)
Transfer Assets
You could transfer savings and investments to your partner if they earn less than you, to reduce your taxable income.
Earn Interest
If reducing your taxable income is not an option, you could simply use your child benefit to your advantage by earning interest on it until you have to pay it back.
For further advice, contact Emma Greer; tel 07885 407604 or e-mail [email protected].